Foris Duct Panels & Vanity Units
Foris Solutions duct panels offer an elegant way to cover the unsightly plumbing in a washroom cubicle without sacrificing the flexibility needed for maintenance access.
The stylish Solid Grade Laminate (SGL) we use in our systems is antimicrobial and virtually impermeable; we can also match any of our cubicle colours to create the finished look that your washroom deserves.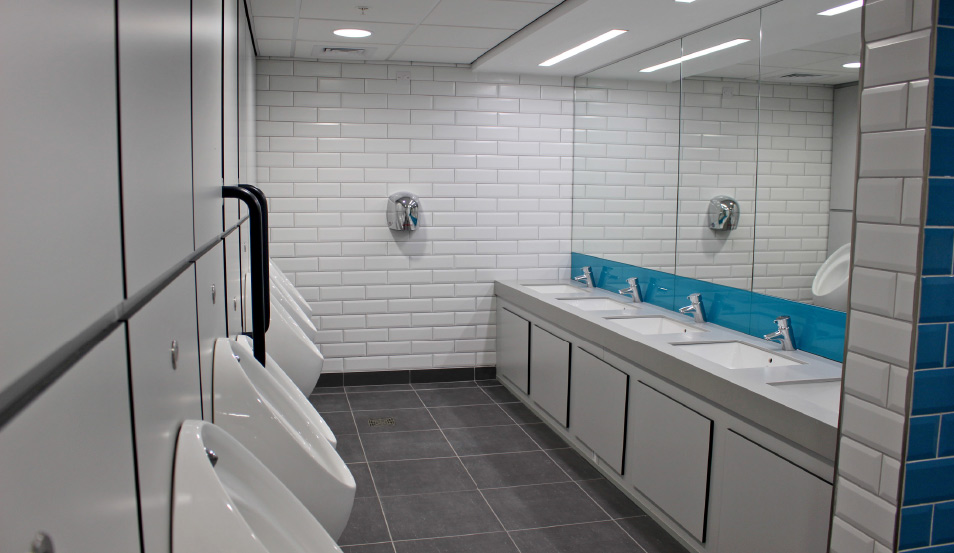 We produce two different options - panel systems that are demountable (removable) or ones that are not demountable (fixed to the wall) where, if desired, we could provide an access portal to reach the plumbing. In both cases we can provide coverage from floor to ceiling or create a partial height system for you.
For our demountable (removable) system, the panels are attached to a frame and can be removed to give you plumbing access. The frames we build for both paneling options can be constructed of wood or metal profiles depending on the environment and your preference.
Foris Solutions also provides duct panelling for urinals as well as for custom vanity applications so you can maintain the continuity of design throughout your facility.
Our flexibility and breadth of line allows us to create visually pleasing, yet highly functional, environments.
Vanity units can be shelf style or can be manufactured as full vanity units with removable access panels. Generally supplied manufactured in 13mm Solid Grade Laminate, however unit tops can also be provided in Corian if required.